Bathroom Renovations in Sydney
Bathroom Designs for Sydney Homes
Everseal Australia are the people to talk to when it comes to complete bathroom renovations. From design, products, colors and the general overall beauty of a finished bathroom renovation Everseal Australia have the expertise and experience you need.
Bathroom Renovation and Bathroom Design Packages
Everseal Bathroom Packages are designed to suit all family budgets while meeting our commitment to use quality products and meet the highest possible standards.
Our design team can custom build your bathroom or alternately, offer you a selection of Bathroom Packages to suit your particular needs.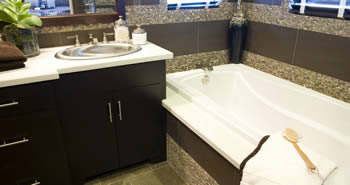 Our Bathroom Packages include designs with or without baths and different types of the latest shower screen designs and materials.
We have a wide selection of bathroom design ideas to choose from, for both fittings, fixtures and accessories for your new bathroom design.
Whether you plan to renovate your existing bathroom or totally start from scratch with a completely new bathroom design, we can help you create the perfect bathroom.
Our bathroom design packages range from the modern designer bathroom to the traditional style bathroom based on functionality and innovative design.
When it comes to choice, speak to Everseal about our Bathroom Packages and the latest in bathroom tiles, ceramic basins, bathroom vanity fittings, spa packages, bathroom cabinets, baths and shower recesses.
Our team at Everseal will project manage your new bathroom from the creative design stage to the completion of your dream bathroom.
Contact Everseal Australia – Leading bathroom designers/renovators in Sydney on (02) 9676 8666 for bathroom renovations needs for Sydney homes.