Fix Water Damage With Our Waterproofing Bathroom Services
All house structures move during the changing temperatures and elements of winter and summer months. It is important that the materials used within the rooms are suitable to adapt to this movement particularly in the bathroom and kitchen wet areas.
The installation of a correct flexible waterproofing bathroom membrane under the wet areas protects against leakage from water travelling beyond the tiled areas e.g. a shower recess, bath, floor and vanity basin areas.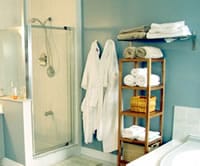 Fixing water damage by maintaining the grouting between your tiles is important to protect against the build up of mould and bacteria and allergy causing health problems.
However, tile grouting is not an adequate form of water proofing to protect your house's structure against timber rot and decay and insect damage e.g. termites.
A surface filler product e.g. a sealer is not a flexible substance and is considered a temporary solution to stopping leaks and in the long term can lead to major structural damages.
This is why it is important to have a membrane system installed and Everseal recommend and use a triple membrane system to ensure long term protection against water leakage.
If you are worried about leaks or signs of water damage in or around your bathroom or shower recess, our professional tradesperson can inspect your premises for a no obligation quotation, to assess any water damage to the area and the costs for repair or replace required.
This work may include the removal of existing tiles and if there are spare tiles available, we will use them or do our best to match the existing colour. This will be determined by the age of the tiles and the availability of replacement tiles.
We work together with our customers in all aspects of tiling and shower repairs and provide quality tiles and shower screen products at all times.
We understand the importance of minimisation of dust when we are working, and our tradesmen do their best to create as little dust as possible and clean up after the work is completed.
We remove all rubbish from your site to ensure the minimum disruption to your family and home.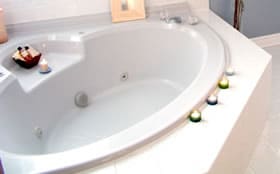 Our Services Include:
Waterproofing
Bathroom Packages
Contact Everseal Australia – Leading bathroom designers/renovators in Sydney on (02) 9676 8666 for fixing water damage and waterproofing bathroom membrane in Sydney.