Disabled Bathrooms in Sydney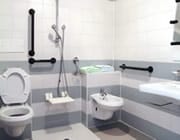 If you need a disabled bathroom in a Sydney home or business, make your first call to Everseal Australia.
Our professional staff will visit your home for a no obligation site inspection to meet and discuss your particular bathroom modification needs and a suitable disabled bathroom layout, to meet those needs both now and in the future.
Disabled bathrooms access designers will create a beautiful and innovative designed bathroom, using quality products, that will meet all the heavy demands of the disabled person both smoothly and efficiently, at all times.
Design features include the latest in technological and manufacturing advancements backed by their respective warranties.
Disabled Bathroom Fittings Available Include: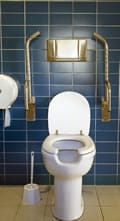 Special waterproofing of bathroom floor areas to eliminate problems eg mold and mildew.
Special disabled toilet with adequate circulation space (1500mm W x 1800mm D).
Disabled toilet with recessed wall cistern for easy toilet access to the toilet, reducing cleaning.
Hobless (step free) disabled shower providing level access to the shower.
Disabled shower screens made from toughened safety glass Grade A, 10mm designed for durability and strength.
Disabled bathing eg walk in bath, slide-in bath and walk-in bath with power seat providing strength and security to move the disabled.
Disabled basins made of classic ceramic, selected for their functionality and innovative design.
Contact Everseal Australia – Leading bathroom designers/renovators in Sydney on (02) 9676 8666 for disabled bathroom needs.